English punk rock band The Clash got that exactly right back in 1981 – hitting on the dilemma facing an estimated 39% to 52% of U.S. workers who are keen to make a job or industry change in 2022.
According to one study from Fidelity Investments, that's four in 10 looking to make a job switch this year. The 2022 Financial Resolutions Study found that 39% of employed respondents across all age categories are planning to get a new gig in 2022. Reasons for seeking a change were values-based, with stress levels, flexibility, and "finding a job that better aligns with my personal values" cited as top reasons.
Staying versus going remains a big theme in 2022 with The Great Shift – the movement of U.S. workers going after more purpose, meaning, flexibility, and greater rewards in their jobs. "It's quittin' time in America," declared Business Insider this month. For real, over 38 million workers quit, leaving big paying jobs for greater life-work balance or low-wage industries for greener pastures.
2021 labor market data fully back that up. For seven months straight – April to December 2021 – record levels of employees quit each month with a peak of 4.5 million jumping ship in December 2021.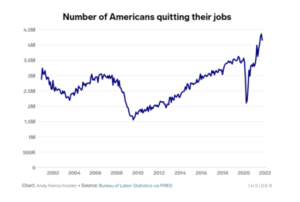 Are your key people quitting? Are you doing everything possible to retain your best and brightest talent? Is your staffing plan focused more on employee retention than new hiring? It should.
Construction Must Change, Too
Skilled construction tradespeople are not leaving in the droves we see in retail, entertainment, travel, leisure, hospitality, and food services. However, much can be learned about changing employee expectations overall.
For example, construction employment also declined in late 2021, with 410,000 open positions in the U.S. in October 2021. That's compared to 253,000 in the same month of 2020.
Quitting is not new to home construction. But it has taken on a new flavor in our post-vaccine economy. Construction industry turnover rates are twice as high as the average business – a whopping 25% yearly. Healthy turnover is considered to be more like 10%. Some companies had very low 1-2% exit rates before the 2020 pandemic recession.
Data from the Bureau of Labor Statistics show how the post-vaccine economy is still being reshaped by workers. Simply put, the old way of working must change for people to stay in their roles. Good news? Pay is not the primary driver of resignations. Purpose, lifestyle, and healthy work environments are – and they are also motivators within your control.
Rather than hiring, shift your focus to growing the team you have. Aim for "best place to work" status by acting on at least one of these six ideas.
6 Simple Ways to Keep Your People
1. Stay Interviews

Proactively set up one-on-one time with each employee
Ask them what works well and what doesn't in your environment
What makes your workplace positive and motivating? What makes it the best place to work? What gets in the way?
If there were ever a reason to leave, what's a top reason?
Listen without feeling defensive. Reward honesty.
Act on at least some feedback to build trust.

2. Flexible and Part-Time Work Schedules

Not all roles can work from anywhere, but some can
Look at options like flextime, hybrid work (a mix of remote and in office), and adaptable shift patterns.
Listen to what your people need to balance home, community, and work life.
Focus more on results and impact than office presence alone.
Monitor what your competitors offer especially hourly roles.

3. Career Growth

Invest in skills, knowledge and expertise with new interesting assignments and training.
Encourage affordable online training such as LinkedIn Learning with over 9,000 English courses across technical, business, creative and Professional Certifications
Enable lead carpenters to pursue valuable of their choosing whether it's a new safety certification or project management or general construction.
Hold proactive discussions around career paths and upward mobility at least twice per year. More if you suspect a flight risk.

4. Tech Automation & Innovation Budget

Today's workforce, especially tech-savvy Millennials and Generation Z (age 18-21), prize technology.
Frustration often arises if they can't explore or act to find a more efficient way for both homeowners and operations.
Enable bookkeepers to innovate HR by automating payroll, benefits, and tax systems – freeing up time for better long-term demand forecasting.
Evaluate Construction Project Management Software such as BuilderTrend, Fieldwire or Houzz Pro.
Set aside a budget for each employee or project, i.e. $300 monthly or $10000 annually to try or buy new technology systems
Create better customer and employee experiences.

5. Care and Appreciation

Find out how each person likes to feel valued – not just for strong results, but for demonstrating behavior important to your work environment such as customer orientation, integrity, or teamwork.
Obsess less on fairness and sameness – focus more on personalization.
Personalize recognition. Some people want time back or a family dinner out on you. Others like cash bonuses or a stretch assignment that leads to promotion.
Know what motivates each person, write it down, and do that thing. It's not yours to decide alone.

6. Better Benefits

Good healthcare insurance and retirement savings accounts continue to top the list. Find out how to get a double-tax and retirement advantage through Health Savings Accounts (HSA) with a High Deductible Health Plan
Consider life insurance, disability insurance or daycare assistance to support families.
Personal choices. More small businesses are moving away from one-size-fits-all. Let people choose.
Team volunteer days, celebrations, and free lunches (occasionally!) are fun and affordable perks!
Put Your Attention on Retention
Simply put, it's better to invest your money, time, and energy to keep the crew you have. More impact and less costly. Doubling down on employee engagement pays off big time versus new hiring in a tight labor market.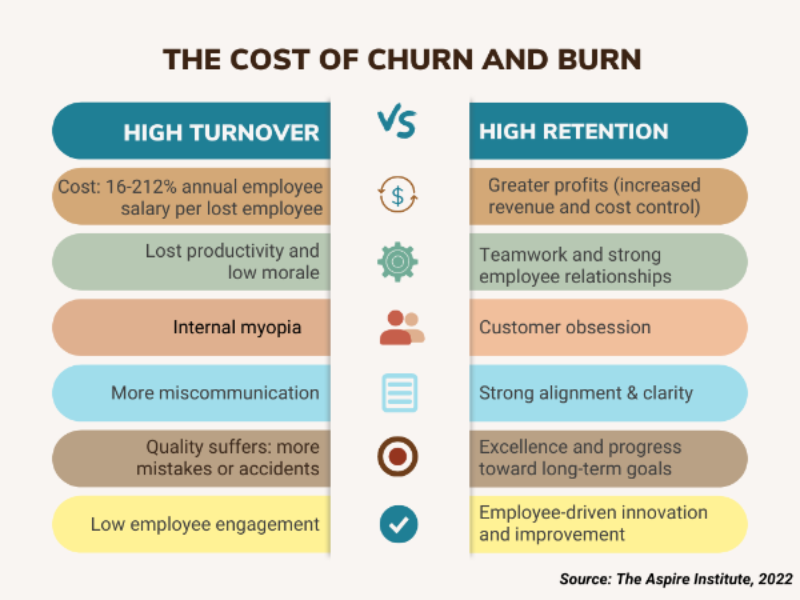 Plus, nailing your staffing strategy is so key to profitability that Jim Eskridge, Aspire Business Coach says: "It must be a long-term, predictable, proactive process."
He adds, "We coach our Aspire clients to be always cultivating, looking, and nurturing talent 6-12 months out to avoid panic hiring or scrambling if somebody leaves."
Of course, the faster you increase your profitability (keeping more of the money earned), the more financial flexibility to bump up wages, promotions, and benefits. That might mean staffing a slightly smaller team, but one that reaps greater rewards for your profitable business.
Plus, it's a big, costly mistake to hire before you fix your margins. So, while you're fixing those margins, be sure to retain critical people.
Small Hinges Swing Big Doors
Take one small retention step from the list above. Remember, small hinges swing big doors! Aspire is not an HR firm, but our Business Coaches do help contractors achieve next-level profitability so that you can afford to hire, retain and reward your team.
When it comes to staying or going, it really does hinge on that.